TEXTING WHILE DRIVING ATTORNEY IN SHREWSBURY, MASSACHUSETTS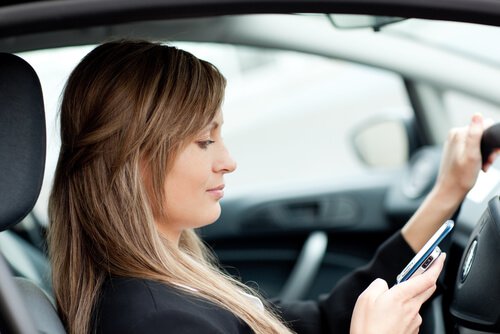 USING CELL PHONES WHILE DRIVING INCREASES THE RISK OF ACCIDENTS
With the prevalence of cell phones — particularly smartphones — in our society today, it almost seems natural to see someone driving and talking on his or her phone at the same time. However, those who talk or text while driving are four times as likely to be involved in a motor vehicle crash, according to a recent study published in the New England Journal of Medicine. Additionally, the National Highway Traffic Safety Administration found that 3,092 people who died in motor vehicle accidents in 2010 were involved in distraction-related crashes.
If you or a loved one was involved in a serious car or truck accident caused by cell phone use or texting while driving, the Law Office of James A. Maniatis will stand up for your rights. The Massachusetts court system does not take distracted driving lightly and neither do we. We will thoroughly examine your claim and seek maximum compensation on your behalf.
PROTECTING YOUR RIGHT TO FAIR COMPENSATION
Many people feel that they can use their phone and still keep an eye on the road. However, the National Safety Council found that although drivers periodically look up when using a cell phone while driving, they fail to see 50 percent of what's going on around them. Any cell phone use while driving — even with a hands-free device — can be a major distraction, including:
Sending text messages

Using the phone's navigation system or GPS

Checking e-mails, Facebook, and other apps

Searching the Internet

Talking on the phone
Our Worcester attorney for texting while driving accidents will examine all the evidence involved in your accident, including witness statements, accident reports and, if necessary, cell phone records. We will then negotiate with insurance adjusters on your behalf to obtain maximum compensation. If necessary, we will involve top medical specialists, occupational therapists, economists and other experts to determine the full impact of your car accident injury, seeking compensation for all of your short- and long-term needs.
CONTACT OUR SHREWSBURY DISTRACTED DRIVING ACCIDENT ATTORNEY
We leave no stone unturned, especially in cases involving distracted driving. For more information, contact our firm to schedule a free initial consultation with our lawyer today.
*Statistics and information provided by the National Transportation Safety Board Fact Sheet "Put the Brakes on Distracted Driving," 2011. www.NTSB.gov.